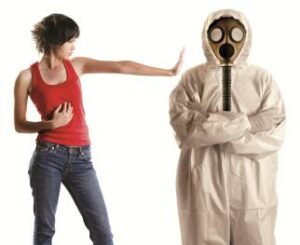 Should Clients be provided with any form of protection?
Recently, attention has been given to the safety of spray tanning, especially in the USA where spray tanning is enjoyed by millions of clients. For instance, the Food and Drug Administration (FDA) in the United States has responded by making certain recommendations. However, it is important to note that these are exclusively related to the huge increase in the use of automatic spray booths for spray tanning. It is also important to note that these recommendations are only for the territories defined within the United States of America as no other regulatory body elsewhere in the world has taken this stance.
These automatic booths often use a complete saturation method and rely on the client to remove excess tanning solution after exiting the booth. Many of these booths allow the clients to breathe in the remaining mist until it is evacuated from the booth. Many early booths still in use, provided little or no evacuation of excess tanning mist. There was some concern from the FDA that the spray solutions could penetrate and be absorbed into the mucous membranes of the eye, nose and lips. They have advised clients to ask for suitable eye protection, nasal plugs and to wear lip balm when using these booths. It is good to note that at this point in time the FDA does not have in its possession any test data to provide any substantiation of these claims indicating that DHA absorption into the body is unsafe.
The application process by manual application like that used by SunFX does not use a saturation method that is used by common automatic spray booths. The SunFX method utilizes a careful and light application instead. Our High Volume Low Pressure (HVLP) spray technology holds atomized particles within the air stream. This technology substantially reduces overspray, keeping airborne particles to a minimum. SunFX recommends having eye protection (usually thin solarium goggles are fine) nasal plugs and lip balm on hand in the event a client requests one or all of these.
Children
Children under the age of 16 should have a parent or a guardian present whilst being sprayed.
Pregnancy
SunFX does not recommend spraying pregnant or lactating mothers without medical guidance.
Sensitive Skin
Clients who have very sensitive skin or who are unsure of their skin type, should consult their GP or Doctor before receiving a test patch or full body spray tan. A test patch should be done at least 24 hours before their full body spray.
Hands
We recommend you wear disposable gloves to ensure that any spilled tanning solution will not stain your hands.
Inhalation by therapist
Although inhalation of our product has not been shown to be harmful, staff members spraying repeated customers in a confined area may desire to use a disposable paint mask or similar protection to eliminate excessive inhalation of any atomized product.
Protection for clients
SunFX recommends having eye protection (usually thin solarium goggles are fine) nasal plugs and lip balm available in the event a client requests one or all of these.
N0 SP factor
A tan produced by application of DHA does not offer any protection against UV rays. Please ensure your clients are advised of this. We recommend the use of a quality sun block when exposing your skin to the sun's UV radiation