Starting a Spray Tan Business?
You have decided that you want to be a part of this fast growing, exciting, fun and profitable industry. Whether you're looking to add spray tanning to your salon or you're ready to start your own mobile spray tan business, we are here to make sure that you receive the correct knowledge and required skills to become a confident and successful spray tan artist.
Learn To Spray Tan Like a Professional
Your success to being a spray tan professional is having a solid well rounded understanding of your craft. With our comprehensive educational program and support you will receive training on:
Science of sunless tanning
Skin structure and all types of tanning
Spray Tan Solutions and how they differ
Essential before and after preparation
How to do the perfect spray tan
How best to use and maintain your SunFX equipment
Fundamentals of marketing
How to build your clientele
And more!
Our training is designed to cover these core areas and much more in a fun, simple and easy to follow manner.
Why Do Your Training With SunFX?
Our training programs have been developed and written by Kylie Rumball BSc/GradDipBus. Kylie is one of the owners of SunFX. She has a science and education background as well as a second degree in Business.
Her medical and educational background has made her passionate about all-natural sunless tanning. She is a little obsessed about sunless education and developing new products to support safe natural spray tanning. She is focussed on ensuring SunFX Spray Technicians are competent artists as well as successful business owners. You couldn't be in better hands than being trained by the person that has trained hundreds of successful artists over the past 15 years.
If you like a self paced, interactive style of learning our online training is made just for you. This comprehensive course is developed using written, audio and video presentations. You will have your own log in to be able to stop and start as you need. Our current course is designed for those starting their spray tan journey and those that may only have a basic understanding of their craft. Maybe you are self taught and would now like a formal certification.
All ready enrolled? Click here to launch!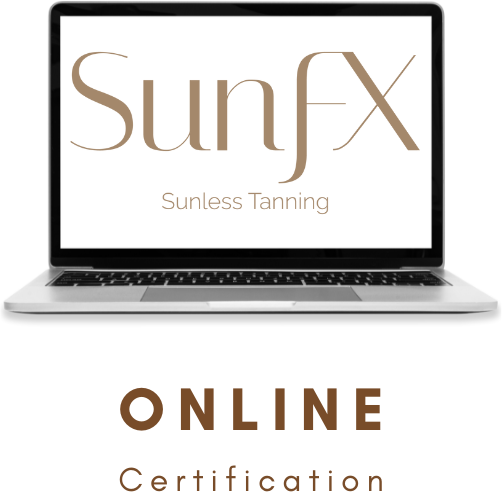 Your learning style is more hands on. That's OK as we have a number of options for you:
One-on-one in person 4-hour session (San Diego) This involves equipment, theory & practical followed by an online assessment.
One Day Group Class (San Diego) includes, equipment, practical and assessment activities.
San Diego Salons- book an in-house training for your staff.
One-on-one virtual class. This involves theory and practical followed by an online assessment.
To find out more about these wonderful opportunities and to set yourself up for success, contact us to register your interest and receive a course outline, dates and cost.
Comprehensive & complete training
Certification
Exclusive discount on our Equipment
Starter Kits
Wholesale account privileges
Scheduled Post training catch-up session
With the correct training, support, equipment, products and hard work you have the necessary elements to set yourself up for a wonderful financial opportunity.
How to Assemble Your SunFX System